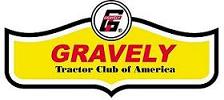 HOTELS AND CAMPGROUNDS NEAR BROWNSVILLE
Beginning the Second Century of Gravely
In conjunction with the
37th Annual Show
National Pike Steam, Gas and Horse Association
222 Spring Road, Brownsville, PA 15417
40 miles South of Pittsburgh, PA on Historic US Rt. 40 (National Road)
August 11, 12, 13, 2017
• See Gravely Tractors from the past to the present
• New and Used Gravely parts will be for sale or trade in the swap area.
• Bring your Gravely tractors and attachments and be part of the show.
We need YOUR Tractors for Demonstration and Display!
This show is open to the public.
For further information contact:
Robin Snyder (304) 288-8741 or (304) 457-1539.
Announces Our
21st Annual Show
Mow-In 2017
For detailed information about the Gravely Club or
membership Visit our website at www.GTCOA.com or
www.GravelyTractorClub.org or contact the club registrar.
Richard Nichols, PO Box 194, Avondale PA 19311-0194
(484) 223-8835 • email: Rich_Nichols@comcast.net
Mow-In 2017 is
centrally located and
easily accessable.